Trike made from aluminium alloy tubes with a streamlined nose cover and instruments panel
Can be equipped with floats, training pedals for the instructor, towing system, emergency parachute, windshield, brakes on main wheels. The brake on nose wheel are basic equipment.
The Racer GT trike can be assembled with all type of Apollo wings (C-15, C-15TN, C-17, CXMD)and many other type of wings.
The trike is very good for training. The only one from our production line what can be equipped with floats. It can take off and land on water.
This trike also has type certificate in the same countries as Jet Star.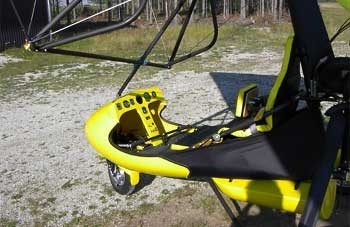 Specifications:
Engine: Rotax 582;
ROTAX503ROTAX582
Gearboxes: B; C; E
Propellers: two blades wooden or 3-4-5-6 blade plastic, fiberglass, carbon propellers. Fix, ground, air adjustable propellers.
Extra instruments: altimeter, airspeed indicator, variometer, compass, intercom system, VHF radio, digital instruments panel, all engine instruments.