Manufactured according to the "BCAR" Section S construction norm
The Apollo Fox is a factory-built, two-seat STOL aircraft with class-leading handling, performance and workmanship. Rudder harmony is especially good and the aircraft is very easy to fly and land.
The fuselage is of welded steel alloy tube construction with wings made from aluminium alloy for both spars and ribs. The wings and fuselage are covered with "Ceconite" fabric with a factory paint finish applied.
The landing gear is a bespoke aluminium plate sheet system, as found on several Cessna designs, and the wheels are equipped with hydraulic disc brakes.
All Apollo Fox aircraft feature wing fold as standard. This is easily achieved single-handedly in less than 10 minutes. Once folded, the Apollo Fox measures just 2.39m making for easy trailering and compact storage.
Available in tailwheel (taildragger) or nosewheel (tricycle) configurations.
Engine: Rotax 582 UL Mod 99 (65Hp), 912UL (80 Hp), 912 ULS (100 Hp).
Propeller: 2 blades wooden or 3-4 blades plastic, fiberglass, carbon ground or air adjustable propellers.
The Apollo Fox holds type certification in Belgium, Sweden, Hungary, France, Croatia, Romania and Norway.
In 2003, an Apollo Fox equipped with a Rotax 912ULS 100 Hp engine was flown from Sármellék, Hungary, to Sydney in Australia – a distance of approx. 25.000 km which set a World record. Flying without a ground support team, the two pilots - Andor Kántás and Csongor Lathky – proved the reliability of the aircraft type and did not record a single technical problem during the entire journey.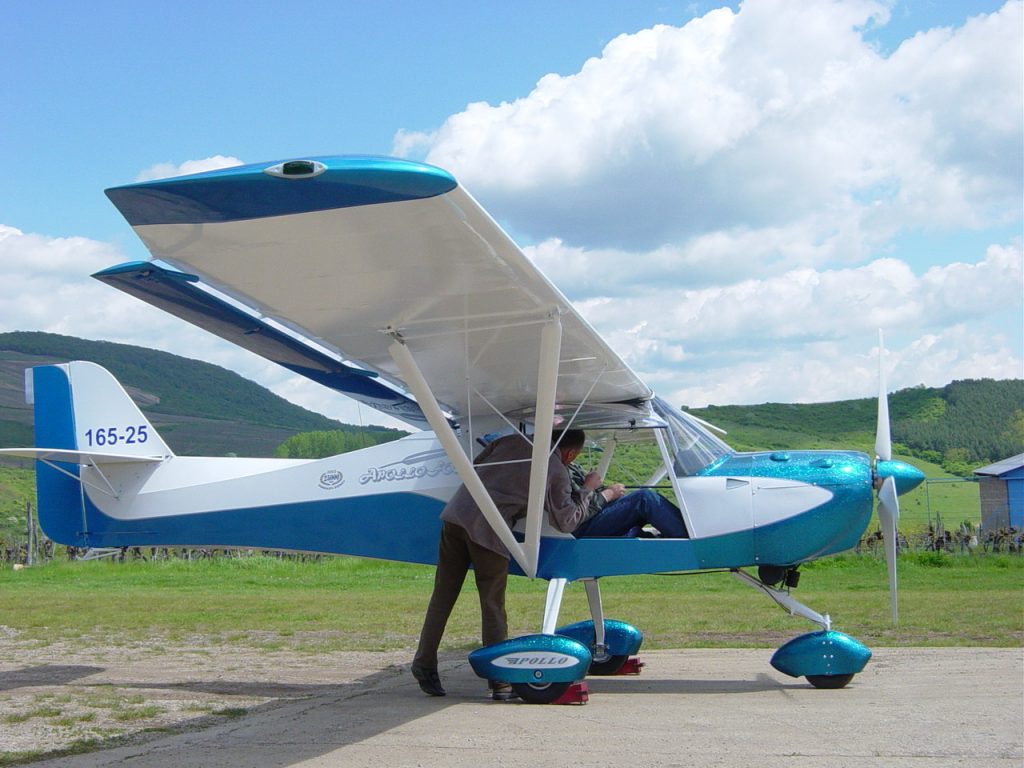 Power: 65 - 100 Hp
Max take off weight: 450 kg
( 472,5 kg in case of BRS installed )
Weight/Hp relation: 5.625 kg/LE
Empty weight: 265-285 kg
Max payload: 200 kg
Wingspan: 9,15 m
Wing area: 11,4 m2
Lenght in spelt: 5,80 m
Lenght with folded wings: 6,47 m
Total width with folded wings: 2,39 m
Height: 1.7 m
Fuel capacity: 60-100 l
Stall speed: 64km/h
Maximum speed: 200 km/h
Vne 220 km/h
Cruise speed: 150 km/h
Take off lenght: 200 m
Landing lenght: 200 m
Range: 800-1000 km
Max G: +4; -2
Max cabin width: 1,1 m
https://apollo-aircraft.com/wp-content/uploads/2021/03/video-1615658190.mp4
https://apollo-aircraft.com/wp-content/uploads/2021/03/video-1615658202.mp4